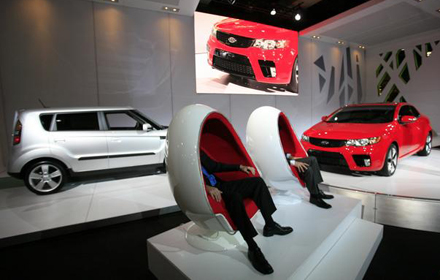 Iraq is having talks with the Japanese company Nissan and the South Korean groups Kia Motors and Hyundai to set up factories to make various types of affordable cars in this middle-eastern country as more and more Iraqis are looking to purchase newer vehicles.
According to the Iraqi state-owned Automobile Company, the OPEC member country produces monthly between 5000 and 6000 cars of different types and is planning to focus on 2 or 3 most popular models in a burgeoning market.
Boosted by oil revenues and foreign investment, Iraqi economy is expected to grow more than 10 pc this year, outpacing all other countries in the Middle East and North Africa.
Despite continued violence and volatile political situation, most Middle-class Iraqis are beginning to see their income levels rising, allowing them to afford the purchase of newer vehicles.
Major world automakers, sensing the huge business opportunities offered by Iraq's sustained post-war economic recovery, are rushing to open new show-rooms and service centers to meet the clients' expectations. GM, Ford, Renaut, Vokswagen, Nissan  and many other Asian and European giants are engaged in a tough competition to gain a foothold and secure a slice in this growing market.