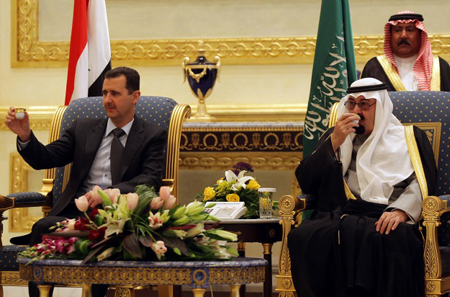 Following the Final Communiqué of world powers during the week end in Geneva, Saudi Arabia which was absent at the meeting has urged the world to stand against Assad. In a released statement after a usual weekly cabinet meeting which focalizes on analyzing important international developments chaired by the King, the kingdom appealed to the world to support UN's proposal and put pressure on Syria's government to apply them under a limited time frame.
The statement hinted that "decisive measures" were needed to stop the killings described as a "mass slaughter" of civilians by the Syrian regime as it went on highlight the urgency for a political solution to the crisis which can be obtained through "the peace plan of the UN-Arab League envoy Kofi Annan" under a determined period of time before insisting that Assad's regime must consider the desire of its populace, that has been taken into perspective by the UN plan, and that it must "fully implement" the latter after immediately bringing an end to the massacres.
In a separate development, the foreign ministry of the Kingdom has released a statement discouraging its citizens from travelling to Lebanon as the crisis in Syria is likely to spread in the country following clashes between supporters of the two camps and a recent rocket attack fired from Lebanon killed two police border guards. Saudi Arabia has followed the likes of Bahrain, Qatar and the United Arab Emirates.
The Saudi diplomat in Yemen has also renewed calls to king to assure his release from the captivity of the Yemeni linked Al-Qaeda terrorists.