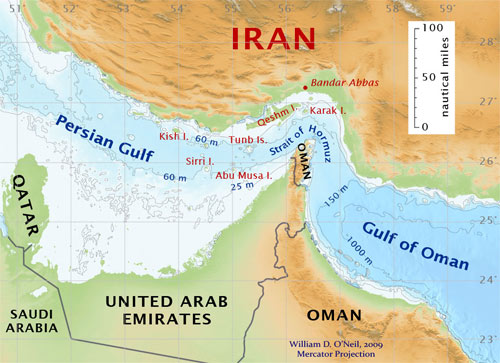 The US has shown its support to the United Arab Emirates regarding the territorial conflict in which it is engaged in with Iran. After a closed door meeting between the countries, at the White House, represented by the Crown Prince Mohammed bin Zayed Al Nahayan and President Barack Obama.
After their discussions on various subjects, they released a unique statement concerning the three islands under the possession of Iran but claimed by UAE. The three islands are Abu Musa, Greater Tunb and Lesser Tunb. They urged for cooperation between Iran and UAE in order to settle the dispute peacefully in an already troubled region.
The statement also carried US utmost support as it read that the United States "strongly supports the UAE's initiative to resolve the issue through direct negotiations, the International Court of Justice, or another appropriate international forum."
Faced with the reality of rising insecurity in the region and the importance of oil to both countries, they also discussed ways of enhancing the safe movement of ships amongst others such as the current issues in the Middle East before agreeing upon increasing their military cooperation and trade.
As expected, Iran voiced out its dissatisfaction with United State's opinion as it continues to maintain its stance on the islands. It accused the US of mingling into its internal affairs with the Deputy Foreign Minister for Arab-African Affairs quoted saying the islands have "always been and always will be an inseparable part of Iranian soil. Interference by a third country is aimed sowing division and tension in the region".
The UAE claims the islands from an agreement dating back to 1971, the end of colonial presence in the gulf, and Iran also claims that it has forever been its territory.