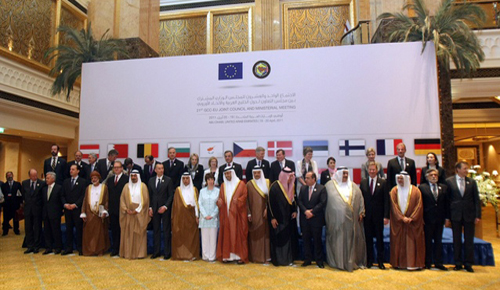 Bahrain has been chosen as the next host of the GCC-EU annual talks of foreign ministers at the just concluded one in Luxembourg. The meetings are geared towards strengthening and developing cooperation between the Middle East and the European countries without forgetting security and stability too. The 22nd edition of the joint ministerial meeting ended with praises to the 2010-2013 Joint Work Program achievements.
Bahrain's foreign minister welcomed the news. He said "the economic and trade cooperation between the two sides, in implementation of the Framework Agreement signed in 1988, is normal. We hope that such cooperation would double in the coming years". He emphasized on solidarity as he pleaded that harsh economic situations should push them to work hand in hand "as two major members of the world's largest economic blocs through our strategic partnerships for the joint interests of our people".
The Gulf has been experiencing undesirable market conditions especially for the equity houses and Investcorp has took a loan to financially to neutralize the debt in payable by 2013 in a move to ease the situation. Investcorp is an investment company based in Bahrain and the $504m loan it has taken can rise because the lending syndicate might be adding new banks to its list. The investment company still remains silent about the affair while a source said an accordion clause was written into the documentation. The loan will limit refinancing risks for the company next year.
In a separate development, the kingdom's government has issued a $1.5 billion bond through the central bank with a maturity period of a decade as subscriptions were over 400%. This is the first conventional issue since 2010 and it will be used for creating a yield curve for long-term government bonds.