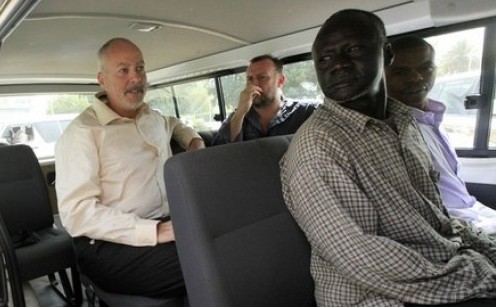 Sudan has decided to release four foreigners that it has arrested in the contested areas after the intervention of Thabo Mbeki.
They have been under Sudan's detention for more than three weeks. They are accused of aiding their neighbours, South Sudan. This has been denied by the South Sudanese authorities. The four foreigners were arrested in the disputed Heglig region which has been ravaged by clashes between the Sudanese and South Sudanese forces. The foreigners are from the United Kingdom, Norway, South Africa and South Sudan. They are also charged with entering Sudan illegally with the intention of spying for South Sudan.
According to reports from aid groups, they are said to be specialists in de-mining and were collecting war debris in Heglig when they were apprehended. South Sudanese officials claim that they are personnel of the United Nations and other aid groups who lost their way while clearing mines around the area.
Their release followed a meeting held on Saturday between President Omar Hassan al-Bashir and Thabo Mbeki, who is in Sudan to revive talks for a peaceful solution as wished by the African Union and the United Nations.
According to Sudan's Defence Minister, they have "release them to Mbeki" and their release is "a gesture of goodwill" by al-Bashir after Mbeki's intervention to facilitate it. The detainees thanked the Sudanese officials for the way they cared for them and Mbeki thanked the President of Sudan during the press conference.
They left with Thabo Mbeki's delegation after the conference. Mbeki is supposed to head for Juba in South Sudan where he will have a meeting with the authorities in order to find a way forward and bring an end to the crisis as soon as possible.