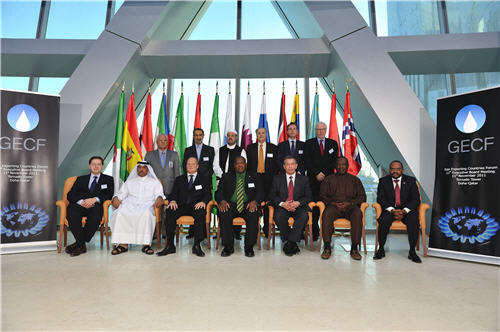 Ranked fourth in the world and having more than 6 trillion cubic meters of gas, the United Arab Emirates has received the nod from its Federal Cabinet to join the Gas Exporting Countries Forum (GECF).
The Federal Cabinet meeting held at the presidential palace in Abu Dhabi was chaired by Sheikh Mohammed bin Rashid Al Maktoum. The Vice President, Prime Minister and the Ruler of Dubai were also in attendance. The approval made the UAE the twelfth member of the intergovernmental organization.
The members of the organization posses a combined percentage of more than 70 and 80 percent of the world's natural gas reserves and liquefied natural gas production respectively. Qatar has the capacity to produce 77million tons of liquefied natural gas per year, making it the largest exporter, whilst Russia with 30% of the global reserves, is the largest gas producer.
During the same meeting, the decision of the UAE government to join a regional transportation organization, the Arab Union of Land Transport was also approved. The union is composed of public and private institutions involved in the transportation of the public and goods. It focuses mainly on international transportations in and within members of the organization. Bilateral agreements concerning aerial transportation and services were approved between the UAE and Lithuania too.
The Federal Cabinet welcomed the joint cooperation discussed at the 14th consultative summit of the Gulf Cooperation Council held in Riyadh as it considered it to cater for the citizens of the Gulf States. UAE's total sovereignty over the three disputed islands with Iran was supported and calls to settle the issue peacefully was wished for by the Arab Parliament.
The parliament is looking forward to an Arabian- Iranian talks to solve it.