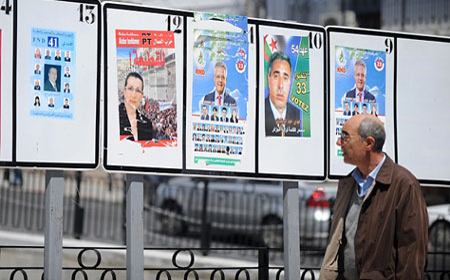 Campaigns came to an end while observers have already started arriving. Not less than 44 political parties and 186 independent candidates will be contesting the elections. This year, 21 of the 44 parties are new to the arena thanks to the new law concerning political parties. For three weeks, they have been going up and down the country trying to convince the electorates for their votes.
The elections will be held on the 10 of this month but some Algerians in the Diaspora have already cast their votes. Participation has been low during campaigns. Hopes are high that the turnout will be massive due to the waves of revolutions the region has witnessed and the reforms it has undertaken. The Arab league has sent in a team of 132 observers to monitor the legislative elections. Some observers from Europe have arrived in the country too.
The elections are seen as an important one by the different political parties. They have repeated it over and over again that it is an opportunity to avoid foreign invasion, domination or interference. They refer to it as the time for a democratic transition in Algeria. Although the country's experience of the Arab Spring was short-lived, an equitable distribution of the nation's wealth, especially the oil revenue, figured on each candidate agenda.
21,6 million voters will take part in the elections. Islamists are hoping to come out victorious like their homologues in the region. The Prime Minister has pleaded for the preservation of Algeria's stability during and after elections.