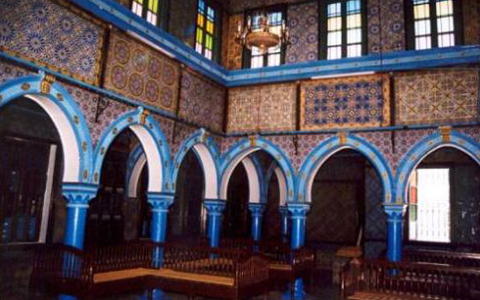 A country which will forever be remembered as the one which made the grand opening of the Arabian Revolution, Tunisia, has been crying foul since two months ago when Israel's National Security Council Counter Terrorism Bureau issued a statement discouraging its citizens from attending the annual Jewish pilgrimage to the Tunisian island of Djerba because of eventual terrorist attacks. The event was cancelled last year because of the revolution.
The council has just withdrawn its stance on the dangers, a move welcomed by Tunisia.  The Islamist party Ennahda, which won the first post-revolution elections has been promoting the country's tourism sector in its efforts to rejuvenate it. It used to contribute almost 7% of the gross domestic product but it is now less than a third of that figure.
Thousands of Jews come together each year on Lag Ba'Omer at the El Ghirba synagogue located on Djerba to worship in Africa's oldest Jewish house believed to have been built by a group of priests after the destruction of the Holy Temple by the Babylonians in Jerusalem in 586 BC.
Tunisia used to have a Jewish population of almost a 100,000 but this number has shrunk to only a few thousands after the 1967 Six-Day War and the Tunisian revolution. The new president, Moncef Marzouki, has urged Tunisian Jews to return but those in the country recently complained of anti-Semitic slogans being chanted during a protest by Islamists.
Last month, Ennahda said it could not normalize relationship with Israel but clarified that it has no problem against Judaism but rather Zionism. The party maintains a cordial relationship with the Palestinian Authority.