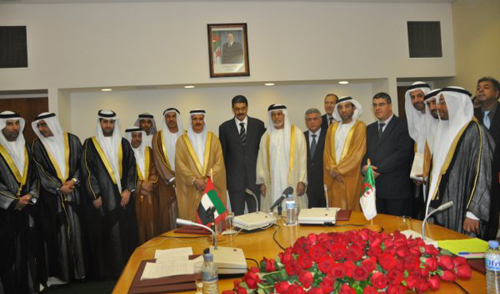 In the interest of the two nations to foster strong economic and political relationships, government officials from the United Arab Emirates (UAE) met with their Algerian counterparts in Algiers on Monday to discuss possible economic partnerships in various sectors.
The meeting was co-chaired by the Minister of Economy of the UAE, Sultan Bin Saeed Al Mansouri, and Karim Djoudi, Algeria's Minister of Finance. It is the 10th meeting of the established joint committee between the two countries.
The objective of the meeting was to cement the bilateral relations between them especially through trade and investments. The possibilities of having joint ventures were also looked into in areas such as energy, finance, banking, education, civil aviation and industrial investments so as to encourage and develop the mutual cooperation existing between them.
Both countries have reaffirm their satisfaction of the cordial relationships with Minister Karim Djoudi confirming that "for each sector, a number of partnership agreements" has been indentified and Sheikh Abdullah , UAE's Foreign Minister, described their relationship as a "proud" one and they enjoy the privilege they get in  Algeria.
Meanwhile, legislative elections are fast approaching in Algeria and President Bouteflika has called for the massive participation of voters to the polls on the 10th of May in order to build "a state capable of defending the citizens, safeguard national sovereignty and the cohesion of the country in an international context suitable for multiple concerns" in a message addressed to the Secretary General of the General Union of Algerians Workers (UGTA). He also urged workers to make Algeria an example in terms of Democracy as the stage is now set to promote the process.