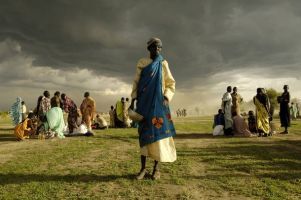 Border demarcation has been a problem between Sudan and South Sudan since the latter gained its independence. However, oil fields along the border have giving birth to difficulties in separating the two sides especially when it comes to the town of Abyei. Both countries claim it to be part of their territory which led to tensions escalating and eventually the exchange of attacks.
Sudan's president, Omar El Bashir, has declared war on the new sate and air raids soon followed on the border towns when South Sudan occupied the Helgig oil field area for 10 days earlier this month with its forces. They left the area about a week ago.
Sudan has now declared a state of emergency along its border with South Sudan giving the president and anyone with his mandate to establish special courts in consultation with the chief justice. Local Sudanese authorities have also asked more than 10,000 ethnic South Sudanese people to leave Sudan within a week after the deadline for regularizing their stay expired. Most of them are blocked at the river crossing point due to the lack of transportation to ferry them across. Sudan is refusing to allow vessels from South Sudan to dock at its port to carry them unless it gets assurance from the South Sudanese authorities that arms won't be smuggled in them and militias won't be brought into Sudan through them. The South Sudanese stranded at the port are still in a dilemma.
South Sudan has informed the UN of its willingness to move its police force from Abyei if the UN and the AU can assure the security of its citizens. There are still clashes and bombings going on.