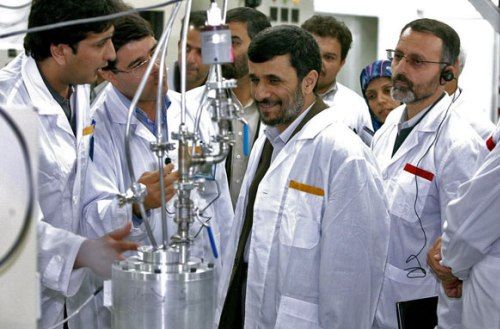 Another round of talks got underway in Turkey between Iran, the five (5) permanent countries at the UN Security Council and Germany. The subject remained unchanged after their last meeting in 2011; Iran's nuclear enrichment program. Iran stands firm that it has no intention to build nuclear weapons through the program; a statement many has denied. Nevertheless, the recent talks seem to be fruitful as both parties described it as "constructive and useful" and "very successful" at their press conferences.
The Shia state seems to find justifications of its enrichment programme in the Treaty on the Non-Proliferation of Nuclear Weapons because the enriched uranium at the Iranian plants are below 20% although Iran has often increased its variation in percentages  since it started forcing eyebrows to be raised.
During their press conference, Iran unveiled a banner portraying the photos of assassinated Iranian scientists with a text reading "Nuclear energy for all, nuclear power for none". Whether these talks will be successful or not, it is still difficult to determine. Everything went on smoothly despite the fact that the U.S. is seeing it as the last straw of diplomacy with Barack Obama terming it as the "last chance". Such actions could be deemed normal giving the fact that the elections are just around the corner and the support of the lobby groups are heavily needed.
For now, the talks are going on smoothly and the next rendezvous is on the 23rd of May 2012 at Baghdad, Iraq. Israel considers the programme as a threat to its existence whilst the other states in the region underline security issues. To conclude, the relationship between Iran and Israel is an open secret.