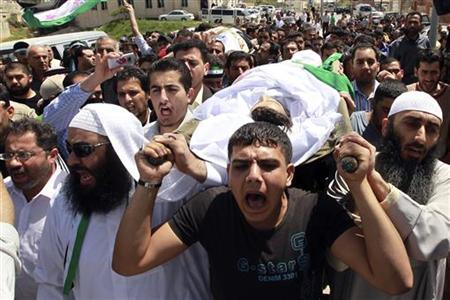 A six-member team of UN observers has arrived in Syria to monitor the truce brokered by the UN-Arab League envoy Kofi Annan.
The deployment of the UN supervision mission has been authorized by Security Council resolution 2042 which approved the sending of 30 unarmed observers to Syria to report on the implementation of the cease-fire.
The six-point peace plan endorsed by the UN and Arab League calls for  an end to violence, the withdrawal of armed forces & weaponry from the cities, the release of detainees and the opening of inclusive political dialogue with the opposition.
However, TV footage continues to show explosions, shelling, flames and clouds of black smoke rising into the air in several parts of Syria despite the arrival of the first group of UN observers, which cast  doubts over Damascus commitment to halt the deadly military crackdown on civilians.
The popular uprising and violence in Syria, which broke out in March 2011 as a protest movement amid Arab Spring, has claimed over 9,000 lives, mostly civilians, and displaced tens of thousands of people.