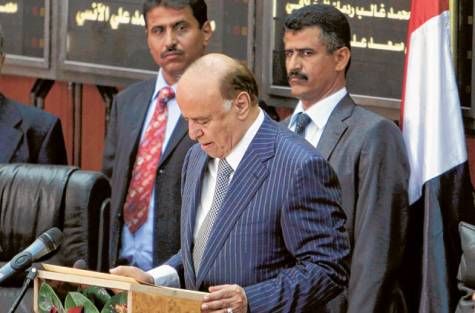 Yemeni people have elected Abdrabbo Mansour Hadi their new president who promises to set a new chapter in Yemen's history. He was only one candidate in the election, viewed as a watershed event marking a new beginning for the battered country.
The election of Mr. Hadi (66), who was vice-president of Yemen, comes after a power-transfer agreement brokered by Saudi Arabia to end months of anti-government protests and sociopolitical unrest.
He replaced Ali Abdullah Saleh who had agreed to step down and hand over power to his vice-president after a 33-year rule. Saleh is currently in the U.S. for "medical treatment" for burns sustained during a bomb blast in his palace last June.
Mr. Hadi had served in the military of South Yemen, then an independent nation, before defecting to the north in 1986 after a civil war. Following the unification of the two countries in 1990, he was named defense minister, then vice president in 1994.
High hopes are pinned on Mr. Hadi to bring in changes, stability and unity for the country.