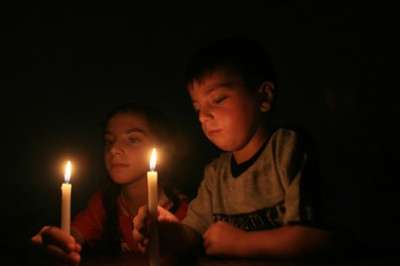 Egyptian government has agreed to supply the occupied Palestinian Gaza Strip with 5 megawatt of power starting next week in a bid to help solve the electricity crisis hitting hard the besieged coastal enclave.
The Egyptian offer comes amid plummeting temperatures in Gaza as Palestinians are enduring frequent power cuts 12 hours a day. Gaza's only power plant was forced to shut down due to a lack of fuel, imported from Egypt.
According to Palestinian officials, the overall electricity deficit has reached more than 60 percent of normal supply. Public services (schools, hospitals…) were badly affected by this severe power shortage that could lead to humanitarian crisis. Egypt has recently shutdown smuggling tunnels through which fuel was smuggled into the isolated Palestinian enclave.
The Egyptian and Palestinian officials have worked out a contingency plan to solve the power crisis in Gaza through three stages — short-term, mid-term and long-term.
Egypt has agreed to beef up gradually power supply to Gaza through increasing the operational capacity of Sinai's power station. This move, which will cost $1 million, will financed by the Islamic Development Bank.