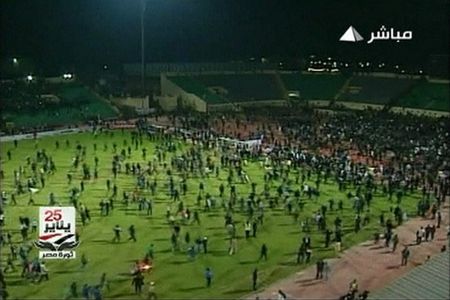 At least 74 people were killed and 1,000 others injured in a brawl that broke out Wednesday in Egypt between rival groups of soccer fans after a game in the city of Port Said.
The riots, the bloodiest since the toppling of President Hosni Mubarak, occurred in the stadium after Al-Masry team beat Al-Ahly 3-1. Live TV footage showed fire, smoke and fans hitting each other with rocks and chairs, while several others stormed the field.
"This is unfortunate and deeply saddening. It is the biggest disaster in Egypt's soccer history," says deputy health minister Hesham Sheiha.
Following these sad events, Egypt's soccer federation suspended all premier league matches. The military-appointed cabinet and the newly elected Parliament also decided to hold emergency sessions to discuss "this tragedy".
Egyptians blame the security forces for failing to prevent soccer violence and the death of the fans.