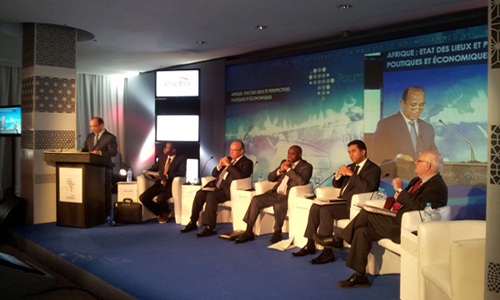 Over 200 eminent personalities including businessmen, diplomats, bankers and decision-makers from Europe, Africa and Morocco have called on African countries to bolster partnership and South-South cooperation to speed up development to catch with industrialized countries.
During the 1st "Forum de Rabat" convened Jan. 25 in Morocco's capital at a time the world is rocked by the Euro crisis and Arab Spring, keynote speakers looked into the huge business opportunities offered to investors namely in the fields of energy, telecommunication, mining, infrastructures, tourism, industry…
Participants at this "African Davos forum" discussed the political and economic situation prevailing in the African continent. They stressed the importance of good governance, education, sustainable development, democracy, transparence, fast track investment, freedom of speech and struggle against corruption.
Debates and presentations of some experts focused on the need to lower trade barriers between African countries, encourage mobility & capital flows, launch common regional development projects, and harmonize commercial & financial laws as a prelude African economic union.
To achieve this goal in today's digital world, they said, the media should play its role in raising the African people's awareness to unify ranks and look beyond narrow political calculations.