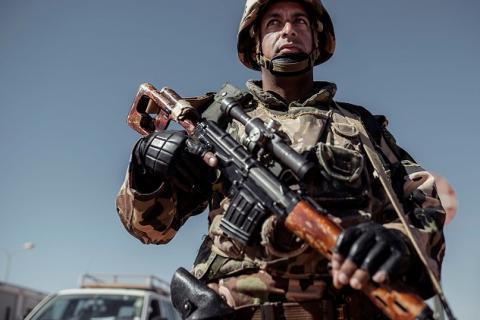 The detachment of the Algerian army rounded Wednesday in Jijel governorate, a wanted terrorist who has joined terror groups since 1994, the defense ministry said Thursday.
The terrorist, identified as Rezkane Ahcene aka Abou Dahdah according to the ministry was arrested during a cordon and combing operation near the town of El-Ancer, in Jijel governorate.
Ahcene, the ministry said, has joined terrorist groups since 1994.
The detachment also according to the ministry seized during the operation, a Kalashnikov-type machine pistol, three ammunition magazines, a grenade and a pair of binoculars.
The Wednesday operation followed the neutralization of three other terrorists early this month in the same governorate.
The army also seized three Kalashnikov machine guns, five loaded mags, one grenade, one photovoltaic panel, 12 backpacks filled with ammunition, five cell phones, clothes and medicines.
Late last month, the ministry had announced the "surrender" of a heavily armed Islamist fighter it identified as Aissa Ben Khia, in Tin Zaouatine.
The terrorist according to the defense ministry surrendered while armed with a rocket launcher, three rockets, a machine gun and ammunition. The terrorist was reportedly a member of several terrorist groups operating near the border with Mali.