Israel: Three workers die at construction sites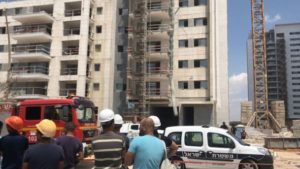 Three workers, two Palestinians and a Chinese, died Monday at different constructions sites in Israeli, bringing the death toll to 27 so far this year.
Two Palestinians from the occupied West bank fell on Monday morning from scaffolding on the 15th floor of a site in the town of Rosh Ha'ayin.
The police, according to Haaretz daily, opened an investigation that led to the arrest of four people including the contractor, the foreman and the safety director on the site.
Another worker, a Chinese national, also fell while plastering on a construction site in city of Lod.
The three deaths bring the total number of fatalities recorded so far this year to 27. The toll is higher if passers-by are included in the count. The figure accounts for 43 per cent rise compared with the same period last year, Haaretz daily notes.
Activists have denounced failure by authorities to implement safety regulations to curb deaths on construction sites. They also argue that deaths are taking toll on the economy.
"The bloody price of the construction industry attests to the ongoing lawlessness and helplessness of the enforcement authorities and the Israeli government, which does not lift a finger in the face of the carnage of construction workers," said Reuven Ben Shimon, founder of the accident prevention forum, according to Haaretz.
"This is a national failure that exacts victims and the heavy economic price of more than NIS 4.5 billion paid out every year by taxpayers to the victims and their families," he added.
Ben-Shimon said 70 per cent of the deaths recorded are caused by falls.
Another activist, Hadas Tagari founder of the coalition against construction site accidents took aim at the whole state apparatus as he talked about a "multi-system failure."
"The police, whose responsibility is to investigate, say that the safety manager does not give the appropriate professional evaluation. The State Attorney's Office, for its part, says that the investigations are conducted negligently and therefore there is difficulty in submitting indictments," Tagari told Hadashot news.
"And the courts, when there is an indictment and a conviction years after the accident, asks why the indictment wasn't filed after a year."
Short URL: https://me-confidential.com/?p=20197
Posted by
Jaber Ali
on Aug 14 2018. Filed under
Headlines
,
World News
. You can follow any responses to this entry through the
RSS 2.0
. Both comments and pings are currently closed.