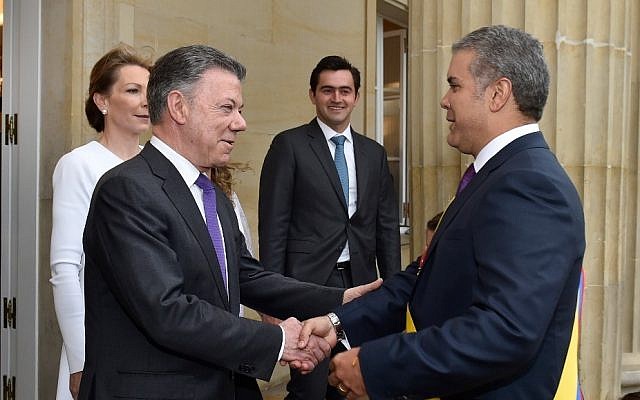 Columbia Wednesday announced its recognition of the state of Palestine in a move that stressed change in the foreign policy of the South American country.
The incoming government of inaugurated President Ivan Duque made public the decision August 3 of former leader Juan Manuel Santos.
"I would like to inform you that in the name of the government of Colombia, President Juan Manuel Santos has decided to recognize Palestine as a free, independent and sovereign state," a letter sanctioning the decision read.
The decision appeared to be made a day after Israeli Prime Minister Benjamin Netanyahu was called off a trip to Bogota to attend Duque's inauguration. Netanyahu cancelled the trip saying he would focus of the alarming situation in south Israel.
It is unclear whether Bogota's decision possibly motivated Netanyahu's decision to freeze his trip.
The Palestinian mission in the Columbia capital reportedly told AFP that they were informed of the decision on Friday. They said the move by Columbian authorities translates "profound efforts to reach a rapprochement".
Columbia is an ally of Israel according to Israeli media Times of Israel, Santos was mulling plans to transfer the Columbian embassy to the disputed city of Jerusalem that Israel in May declared unilaterally its capital, with endorsement from the White House.
The new Columbian Foreign Minister Carlos Holmes said the decision is legal but the government will study its implications. Homes also noted that Bogota will "maintain cooperative relations with its allies and friends, and to contribute to international peace and security."
Over 130 countries around the world have recognized the Palestinian statehood. Now that Columbia has joined the chorus, Panama is the only South American country that does not recognize Palestine as a state.