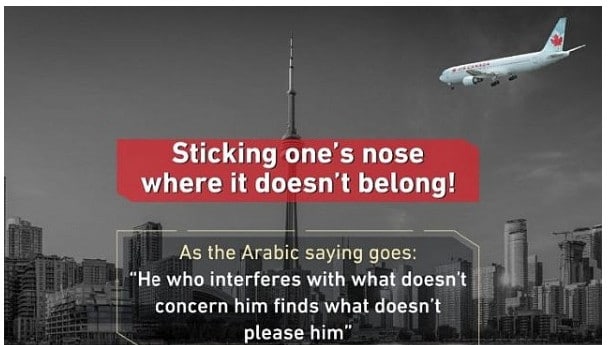 Canada has contacted two European allies to help iron out the unprecedented diplomatic spat with Saudi Arabia, a Canada senior official has told AFP.
Germany and Sweden according to the Canadian government senior official who asked not to be named because not authorized to speak on the diplomatic matter, were contacted by Foreign Minister Chrystia Freeland.
Freeland sought to learn how they resolved those disputes, and asked for their support, the official said, according to AFP.
Both Germany and Sweden were also rebuked in the past for denouncing human rights deficit in the kingdom.
Riyadh in a report by Bloomberg News early this year said "was scaling its dealings with some German companies amid a diplomatic spat with Berlin." The move according the media came after German top diplomat in November during the political crisis in Lebanon caused by Saad Hariri's announced resignation on a Saudi state television, said Lebanon was a "pawn" of Saudi Arabia.
In March 2015, Saudi Arabia recalled its ambassador from Stockholm over criticism by the Swedish foreign minister of Riyadh's human rights record, AFP reports.
Ties between Canada and the Gulf most powerful country flattened early this week after Saudi Arabia in rejection of a call by Canada to release all civil rights activists, banned the North American country's envoy from returning to Riyadh and also called back its own diplomat in Ottawa. The Saudi authorities have also frozen all trade and investment in addition to suspension of all academic cooperation between the two countries.
Canada despite Saudi Arabia's demand to "fix its biggest mistake" bolstered Wednesday its position on the situation of human right in the largest Sunni country.
"Canada will always speak strongly and clearly in private and in public on questions of human rights … at home and abroad, wherever we see the need," Prime Minister Justin Trudeau said.
"Canadians expect that, and indeed people around the world expect that leadership from Canada," he added.
The Canadian leader also confirmed talks between both sides to resolve the crisis. Freeland according to Trudeau held a long conversation with her Saudi counterpart Adel al-Jubeir.
Another Canadian source told Reuters this week that Ottawa would call upon Abu Dhabi and London to help calm Riyadh. The U.S., an ally of the two protagonists has refused to play go-between.