Iran: Never threaten the United States again, Trump warns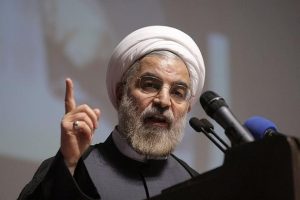 US President Donald Trump Sunday warned Iran not to threaten the United States after Iranian President Hassan Rouhani also cautioned the Trump administration against a war with the Islamic Republic stressing it will be the 'mother of all wars.'
"Never, ever threaten the United States again or you will suffer consequences the likes of which few throughout history have ever suffered before," Trump said in a Twitter post.
"We are no longer a country that will stand for your demented words of violence & death," he added.
The US leader's comments came following Sunday warning by Rouhani that the United States should beware of plans to military option against the Islamic Republic.
"Mr Trump, don't play with the lion's tail, this would only lead to regret," Rouhani was quoted as saying by the state news agency IRNA.
"America should know that peace with Iran is the mother of all peace, and war with Iran is the mother of all wars," Rouhani said.
"You are not in a position to incite the Iranian nation against Iran's security and interests."
The United States has been applying pressure on Iran for regime change in Tehran, the entourage of Trump has hinted.
The US leader in May walked out from the 2015 nuclear accord signed between world powers and Iran.
The Trump administration is expected to re-instate economic sanctions by August. Alongside with the coming sanctions, President Trump has been pushing allies to halt buying Iran's oil by November 4.
Iran, in counter-attack, recently threatened to block oil shipment in the Gulf and the Strait of Hormuz, which represents an important waterway for international oil trading routes.
Short URL: https://me-confidential.com/?p=20015
Posted by
KanelkaTagba
on Jul 23 2018. Filed under
Headlines
,
World News
. You can follow any responses to this entry through the
RSS 2.0
. Both comments and pings are currently closed.