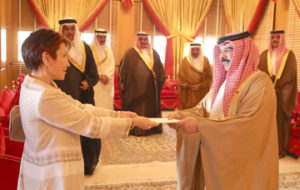 France has moved to calm Bahrain after calls in France demanded that Paris grants an honorary French citizenship to Bahraini opposition figure Nabeel Rajab who has been handed a five-year prison sentence, Bahraini sources told Reuters. 
Ties between France and the Gulf country turned sour in the wake of the confirmation of a five-year prison term for Rajab who has been arrested and sentenced in February for criticizing the Saudi-led coalition fighting in Yemen and accusing Bahrain's prison authorities of torture.
On June 7, French envoy to Bahrain Cecile Longe on Tweeter took the side of human rights activists and dissents, noting that Paris was concerned by the "treatment of human rights defenders and political opponents in the country". She specifically criticized the confirmation of a five-year prison sentence for opposition member Rajab, Reuters notes.
The tweets stirred anger in Manama and the situation compounded Monday after Paris town hall decided to award the opposition member honorary citizen of the French capital.
"The Bahrainis went apoplectic after this because the symbolism of it was a step too far," a source aware of the matter told Reuters.
Manama disapproved the decision and dispatched an envoy to Paris to protest against the tweets and the Paris town hall's decision.
In reprisal, Bahraini authorities threatened to call off a scheduled official visit late this month of the king of Bahrain to Paris.
The alleged cancellation was chalked up to a death in the royal family.
Neither France, a key ally of the Gulf countries, nor Bahrain made comments on the diplomatic spat.