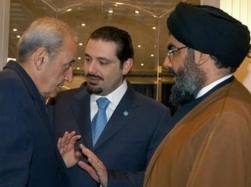 French President Emmanuel Macron Monday took credit for solving the November political crisis that erupted in Lebanon after Prime Minister Saad Hariri was allegedly abducted in Riyadh following a visit to the kingdom wherefrom he announced his resignation.
"If France wasn't listened to then there probably would be a war in Lebanon at this moment as we speak. It's French diplomacy, it's our action," Macron said in an interview with broadcaster BFM TV.
"I remind you that a Prime Minister was held in Saudi Arabia for several weeks," he said.
France intervened between Lebanon and Saudi Arabia to secure the return of Prime Minister Saad Hariri to Beirut after being alleged held in Riyadh.
Saad Hariri had announced from Riyadh his resignation from the position of Prime Minister. The Sunni Lebanese leader had criticized Iran-backed powerful Lebanon movement Hezbollah of sowing mayhem in the region. Reports in Lebanon also emerged that Hariri was abducted and put under house arrest.
Hezbollah and President Aoun believed Hiriri was coaxed to the speech. Lebanese authorities turned to western powers to help defuse the crisis, which took several weeks.
President Macron travelled to Riyadh to convince Crown Prince Mohammed bin Salman to let Hariri return to Lebanon.
Hariri returned Lebanon late November on the eve of the 47th celebration of the national Independence following two weeks of absence.
The re-appointed Lebanese Premier denied he was held hostage then.