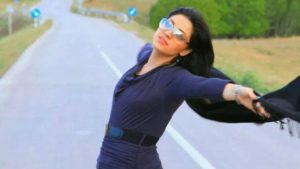 Iranian authorities cracked down on anti-mandatory headscarves protests in Tehran and arrested 29 activists, media reports said.
Women across the country have been protesting by climbing onto telecom boxes, taking off their headscarves and waving them aloft on sticks.
Iran's prosecutor general, Mohammad Jafar Montazeri, described the protests on Wednesday as "childish", "emotionally charged" and instigated "from outside the country".
The compulsory headscarf has been in place in Iran since 1979, after the Iranian revolution.
The anti-hijab protest come after Iran was rocked last month by violent protests against worsening economic conditions.
The wave of anti-government demonstrations last month was sparked by concerns over rising living costs and a stagnant economy, but also provided an opening for Iranian women to push for equal rights.