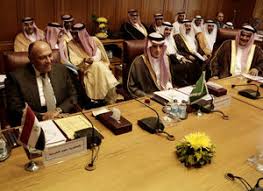 Saudi Arabia pledged to respond to Iran's "aggression" as tension between the Saudi Kingdom and its allies on the one hand and the Islamic Republic and its allies on the other is mounting.
"The kingdom will not stand by and will not hesitate to defend its security," said Abdel Jubeir, the Saudi foreign minister Sunday at an Arab League emergency meeting summoned by his country.
The emergency meeting was called by Riyadh to ponder over "Iran's aggression" following various crises, which have broken out in the region few days ago starting from the sudden resignation of Saad Hariri, the Lebanese Prime Minister who is also known as a Saudi ally.
Hariri announced his resignation on November 4 from Riyadh, accusing Iran and its Lebanon-based ally Hezbollah of spreading strife.
Iran and several Lebanese leaders including the Hezbollah movement accused Saudi Arabia of coercing Hariri into stepping down in a move to destabilize the country led by a unity of factions divided between Saudi Arabia and Iran.
Riyadh and Tehran engaged in a war of words after a missile launched by Iran-backed Yemen Houthi rebels was intercepted near the Saudi capital international airport. Riyadh condemned the launch calling it an act of aggression. For Saudi Arabia, the missile was supplied by Iran with the help of Hezbollah.
Also last week, Bahrain condemned Iran for sponsoring a terror attack on a police bus in which one police officer was killed and several wounded. Bahraini authorities also blamed Iran and Hezbollah for a sabotage attack on its main oil pipeline, the week before.
To Saudi Arabia's pledge for response, Iran noted that Riyadh was engaged in sowing division.
"Unfortunately countries like the Saudi regime are pursuing divisions and creating differences and because of this they don't see any results other than divisions," Iranian Foreign Minister Mohammad Javad Zarif told Iranian state media on Sunday on the sidelines of a meeting in Antalya, Turkey, with his Russian and Turkish counterparts about the Syria conflict.