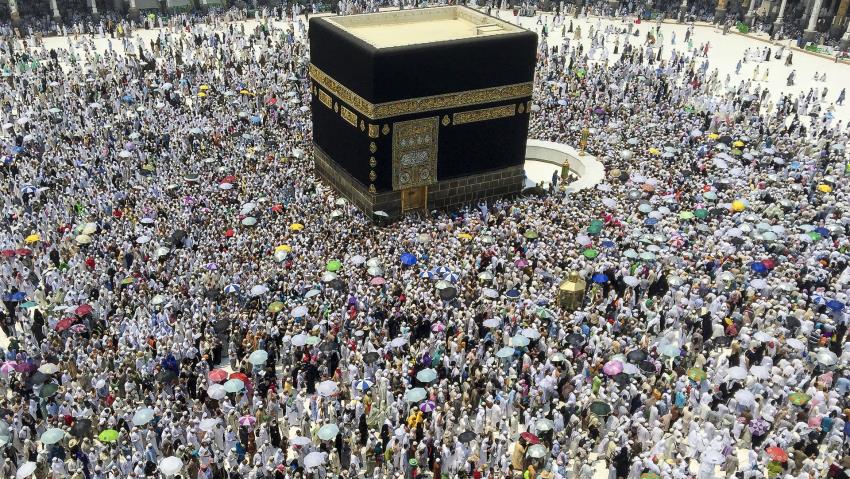 Saudi foreign minister Sunday announced that Qatar declared war on Saudi Arabia after Qatari authorities called the UN to intervene in alleged restrictions put on Qatari pilgrims who want to perform the Hajj at Mecca.
Adel Jubeir who was speaking at end of a meeting with counterparts from United Arab Emirates (UAE), Bahrain and Egypt in Manama indicated that Qatar had crossed the red line.
"Qatar's demands to internationalize the holy sites is aggressive and a declaration of war against the kingdom," he told Saudi channel Al Arabiya.
"We reserve the right to respond to anyone who is working on the internationalization of the holy sites."
Qatar's National Human Rights Commission (NHRC) Sunday indicated that it filed to the UN special rapporteur on freedom of belief and religion over the "obstacles" put in place for Qataris planning to perform the annual Hajj pilgrimage, The New Arab reports.
The NHRC complained about restrictions imposed on Qatari Hajj and Umrah performers. Saudi authorities recently announced Qatari pilgrims who registered for the two pilgrimages could join other pilgrims but were only allowed Jeddah and Madinah entry points. Saudi authorities also restricted airlines to carry the Qatari pilgrims.
Qatar has been in diplomatic row with the Saudi-led quartet after the bloc accused Doha of sponsoring terrorism. The bloc has also cut land, sea and air links with Qatar conditioning the renewal of diplomatic ties over fulfilment of 6 principles including fighting extremism and terrorism, imposed by the four.
Doha vehemently rejected the accusations as well as the conditions.
The anti-Qatar countries initially issued 13-items list, asking Doha to close down Al Jazeera news network, to curb diplomatic ties with Iran and to suspend Turkish military deployment in Qatar.
Also on Sunday, the Qatari Ministry of Endowments and Islamic Affairs rejected Saudi reports that Doha has banned its citizens from performing the Hajj to start in September. The ministry also panned Saudi Arabia for not providing security to Qatari pilgrims.
"The fabricated news that has recently been published by Saudi media… aims to distort the truth and put obstacles in the way of pilgrims," the ministry said in a statement carried out by the state-own agency QNA.
20 thousand Qataris and residents of Qatar applied to make the pilgrimage.
Qatari Umrah performers complained before Qatari authorities that they were exposed "unwarranted obstacles and harassment".