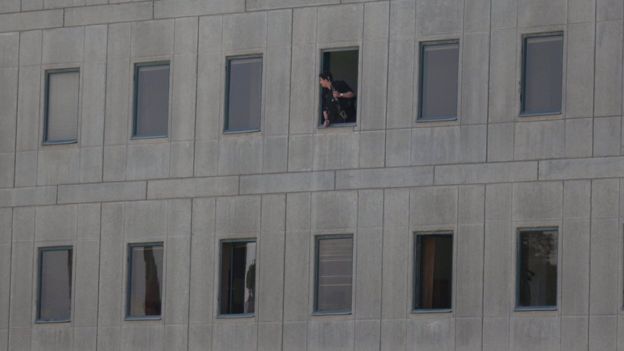 Gunmen and suicide bombers attacked Wednesday in what appeared in coordinated attacks the Iranian parliament in central Teheran and the shrine of founder of the Islamic Republic Ruhollah Khomeini, reports say.
An unconfirmed number of assailants attacked Wednesday morning the parliament complex at the time a session was taking place. The gunmen according to local reports took some lawmakers hostages and killed seven people including a guard.
Four attackers including a suicide bomber were involved in the attack on parliament, the Guardian reports citing Iranian State TV broadcaster Irib.
A lawmaker told the media that the gunmen were carrying Kalashnikovs and one Colt pistol,
Another local news channel backed by the state, IRNA, notes that one attacker had been arrested.
ISNA news agency contacted a lawmaker identified as MP Seyyed Hossein Naqavi-Hosseini who said three gunmen were still in the building, in MPs' offices, BBC reports.
Iranian security forces arrived to the scene and sealed off the area. Helicopters were seen circling over the parliament.
Reports from another attack at Ruhollah Khomeini's mausoleum, located several kilometres south of the parliament left five people injured.
Ali Khalili from the mausoleum's public relations office told IRNA news agency that one of the armed men had blown himself up in front of a bank outside the mausoleum, BBC reports.
The suicide bomber was reportedly a woman. Images from the scene showed the remains of the bomber, apparently clad in black clothes.
Five people were injured in the attack at the shrine.
Ayatollah Khomeini is Iran's Islamic Republic founder. He led the revolution 1979 against the Shah. He led the country for 10 years.
Iran largely Shia, has been largely spared by terror attacks. Islamic Republic has sent troops to back embattled Syrian President Bashar al-Assad against rebels and terrorists.
The Islamic State group vowed to cause havoc in Iran which it accuses of suppressing minority Sunnites.