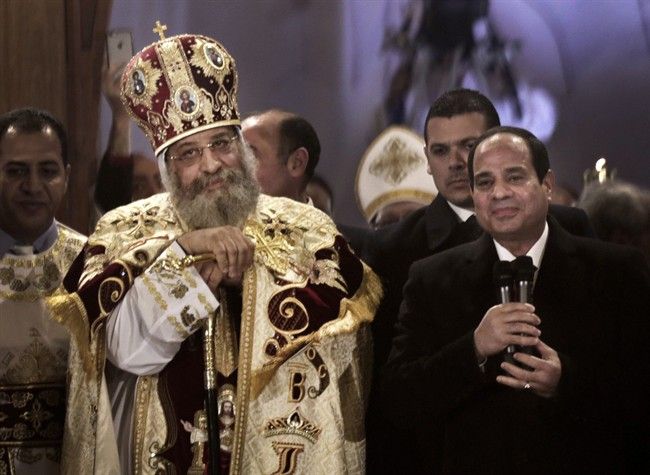 The Egyptian military has continued its airstrikes targeting extremist groups in Libya for three consecutive days and the spokesman for the army, Tamer al-Rifai, stressed that they will continue to "target all camps where terrorist members are being trained and which could threaten Egypt's national security."
Three airstrikes struck the city of Derna on Monday, according to press reports.
Egyptian authorities have been tight-lipped about their military operations in Libya but the latest airstrikes were triggered by the killing of at least 29 Christian Copts on Friday in the province of Minya. The Islamic State group claimed responsibility for the attack. Egypt began striking Derna with missiles shortly after the attack and al-Rifai has warned that the scope of their target could increase to anywhere terrorists are trained to shake Egypt's stability.
After the deadly attack on Friday, President Abdel Fattah al-Sisi said the air raids targeted militants responsible for plotting the attack, and that Egypt would not hesitate to carry out additional strikes inside and outside the country.
Egypt is coordinating with the Libyan National Army (LNA) led by Field Marshall Khalifa Haftar. The LNA is loyal to the Tobruk-based House of Representatives.  The strikes have so far been targeting ammunition stores and operation camps of extremist groups.
It is unclear when Egypt intends to stop its aggression amid concerns that Christian Copts are increasingly becoming targets of the extremist groups.
A military source told Asharq Al-Awsat by telephone that Cairo is not expected to reveal its plan because "if the armed forces decide to conduct any air, ground or naval operation, they would not announce it." The operations have been considered successful by the military.
President Sisi's tenure in office has been challenged by terrorist attacks that have targeted senior government officials and military personnel. The government has launched a crackdown on groups in the Sinai Peninsula and close to its border with Libya.