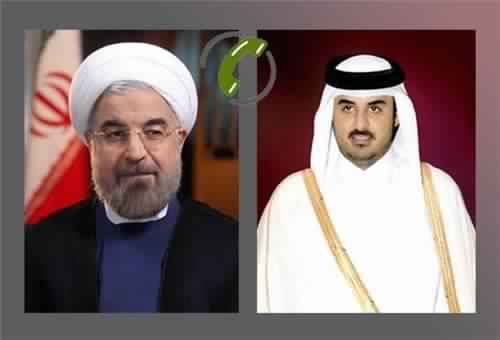 Qatar and Iran are slowly bridging their differences but the move is receiving strong objections from other Gulf States as they accuse Doha of distancing itself from their common position. Qatar's ruler, Sheikh Tamim bin Hamad Al Thani, had a telephone discussion with President Rouhani over the weekend and it was considered as a strong signal of Doha's plans to change its policy towards Tehran.
This comes after the controversial statements posted by the Qatari News Agency, which attributed them to hackers before removing them.
The Gulf Cooperation Council members seek to isolate Iran. They often accuse Tehran of trying to destabilize them and interfering in their domestic affairs.
During the telephone conversation between the two leaders, Rouhani lamented that "the world of Islam… is suffering from divisions" and wants it to "advance toward peace and brotherhood and to this effect we are ready to negotiate to get a real agreement." Sheikh Tamim called for dialogue and negotiations to promote regional integration and encouraged the mediation process spearheaded by Kuwait.
Rouhani acknowledged that "regional countries need more convergence and consultation to solve regional crises." He hopes that "existing obstacles" will be removed through cooperation in order to "strengthen brotherly bonds through firm determination."
United Arab Emirates minister of state for foreign affairs, Anwar Gargash, pointed out that the GCC is going through a "severe" crisis that poses a "grave danger" to its members. His comments seem to be directed at the standoff between Doha and the GCC members as he warned that "fending off strife needs a change in behavior, building confidence and restoring credibility."
Kuwait has apparently embarked on a mediating between Doha and other regional states as its foreign minister met with Sheikh Tamim last week.