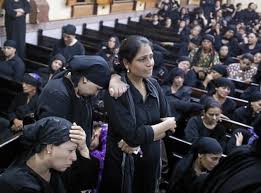 Egyptian President Abdel Fattah al-Sisi Friday announced that army shelled training camps in eastern Libya where the gunmen who killed 28 Coptic Christians in Southern Egypt were trained.
The Egyptian President, in a televised address shortly after the attack, indicated that he had ordered quick retaliation on the militants: air raids against terrorist camps which allegedly trained the attackers of the Coptic Christians in Minya province, Southern Egypt.
He vowed to confront terrorist camps in Egypt and abroad while noting that all countries, which finance terrorists must be punished.
"Egypt will never hesitate to strike terrorist camps anywhere… inside Egypt, of course, or abroad," Sisi said.
After al-Sisi's speech, an army official said that Egyptian fighter jets hit terrorist camp positions in Derna, Eastern Libya. The warplanes conducted strikes against the headquarters of the Shura Council in the city of Derna. The group is said to be linked to al Qaeda.
Libyan forces led by Eastern-based army commander Khalifa Haftar indicated that they took part in the airstrikes and that the operation will be followed a ground operation.
Masked gunmen stopped a group of Coptic Christians heading to St Samuel's monastery in Upper Egypt's Minya province Friday. The gunmen assaulted the vehicles carrying the group, firing at men and shooting at women and children in the legs.
At least 28 were killed including 2 children. Twenty four children were wounded and sent to hospitals near-by and in Cairo, reports say.
The latest attack is part of series of persecution of the minority Christian population. In December and April suicide attacks against Coptic Churches left dozens killed.