Turkey: US envoy summoned over security lapses, misconducts during Erdogan's visit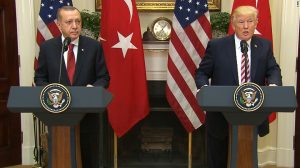 Ankara Monday officially rebuked Washington as it summoned its ambassador for what the Turkish foreign ministry termed as "the inability of US authorities to take sufficient precautions at every stage of the official program" during the Turkish President's visit to the White House last week.
Recep Tayyip Erdogan's May 16 visit to the white House, which was reported as a renewal of strong ties between Turkey and the US following Ankara's condemnation of US military support for Syrian Kurdish groups fighting Deach, was rather eclipsed by a brawl involving members of the Turkish President's bodyguards and pro-Kurdish activists. The brawl took place in front of the Turkish ambassador's residence where Erdogan was expected for a visit.
Footages of a melee went viral on social media showing the Turkish security details beating and kicking Kurdish activists.
Ankara considers the group as an extension of Kurdistan Workers' Party (PKK), listed as a terrorist organization by Ankara and Washington.
The State Department lamented the incident and condemned the attitude of the Turkish delegation.
But Ankara notified to John Bass, the US envoy that US Security personnel were "aggressive" towards the Turkish delegation and had failed to quell an "unpermitted" and "provocative" demonstration.
The trepidation also underlined "the inability of US authorities to take sufficient precautions at every stage of the official program."
Ankara complained about a brief detention of two Turkish security personnel as they tried to enter the embassy at the time the US security tried to end the dispute. The two security guards were later released and returned to Turkey, the Washington Post reports, quoting a Turkish official.
Ankara blamed the pro-Kurdish protestors for sparking the fight.
"Differences of opinion are natural among two allies," said Turkish ambassador to Washington, Serdar Kilic.
"There is a big difference between freedom of expression and expression of solidarity with terrorists and terrorism. It was disappointing to see friends of PKK on the streets of Washington, D.C."
Short URL: https://me-confidential.com/?p=15950
Posted by
KanelkaTagba
on May 23 2017. Filed under
Headlines
,
World News
. You can follow any responses to this entry through the
RSS 2.0
. Both comments and pings are currently closed.