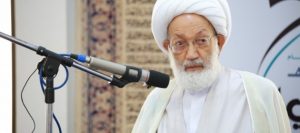 After besieging the town of Diraz for the past couple of months, the Bahraini police began the implementation of security operation on the supporters of Ayatollah Isa Qassim. The supporters of the Shia cleric have been staging a sit-in protest in Diraz but the Interior Ministry claimed that the gathering has become "a haven for people wanted in security cases and fugitives from justice."
Qassim was sentenced by a court on Sunday to one year imprisonment, suspended for three years, on charges of corruption. His assets were seized and two of his aides received similar sentences.
Lebanon-based Hezbollah described the court decision as "a new crime added to a series of crimes against humanity perpetrated by the Bahraini regime." It added that corruption charges "targets the Khums ritual aimed at receiving money to give it to poor people and orphans."
The Interior ministry's operation has distanced Tuesday's crackdown from the court decision, claiming it is meant to "impose security and general order."  Its statement channelled through Twitter failed to mention the "wanted" people and the "fugitives" seeking refuge at the protest encampment.
Qassim has been held by authorities since last year and was stripped off his citizenship in June following accusations that he is spreading extremism. His supporters deny the allegations and called his trial politically motivated.
Since 2011, tensions in Bahrain have been rife between the ruling Sunni minority and the Shia majority. The latter has been demanding and protesting for fundamental political reforms. Manama claims that Iran is supporting such actions in a bid to destabilize the kingdom. Tehran has often denied such allegations.
Tuesday's security operation highlights the fragile situation in Bahrain as activists shared mobile phone stills and videos showing youths throwing stones and climbing on an armored personnel carrier.