Morocco's King Renews Commitment to Promote Energy Efficiency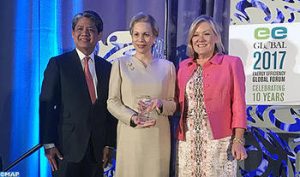 King Mohammed VI has renewed his pledge to continue his endeavors to promote energy efficiency and renewable energy, to adapt his country to future changes and to make it meet its growing energy needs in a sustainable manner.
This came in the acceptance message the monarch addressed to the Energy Efficiency Global Forum, which granted him its annual Energy Efficiency Visionary Award.
The acceptance message was read out by Morocco's Ambassador to Washington Lalla Joumala Alaoui at a ceremony during which the forum organizers hailed the leadership of King Mohammed VI in the field of developing renewable energies and energy efficiency in Morocco and beyond.
"This Award confirms the Kingdom of Morocco's positioning as one of the countries that have managed to make the most of their renewable energy potential by developing solar power plants, wind farms and hydroelectric plants, and by introducing energy efficiency measures in all key sectors of the Moroccan economy," said the King in his message.
"I pledge to keep up efforts at the national, regional and continental levels and do all I can to promote an environment conducive to the sustainable development of energy efficiency, renewable energy, technological innovation and green jobs in general," said King Mohammed VI.
Morocco constantly seeks to adapt to future changes, both to ensure its economic and social development and to meet its growing energy needs in a sustainable manner, the Monarch said, adding that "the security of energy supply, energy availability, energy efficiency and environmental protection are the bedrock of my country's energy strategy".
Underlining his keen interest in energy efficiency, he explained that his vision for socio-economic development, energy efficiency plays an important part in enhancing the fundamental rights of citizens, in environmental protection, in the preservation of public health, in curbing dependence of energy and in rationalizing public spending.
"The pressing challenge for our world today is not so much to confront the lack of energy resources as to mobilize the investment needed in this field. It is, therefore, necessary to build the energy infrastructure required and to develop alternative technologies, King Mohammed VI said.
"Our commitment to developing an efficient, carbon-free energy model for the well-being and prosperity of our citizens is essentially based on the growing importance of renewable energy and the consolidation of energy efficiency measures," he insisted, recalling Morocco's efforts to promote renewable energy to increase its share in power generation from 42% in 2020 to 52% in 2030.
"Also, in our Energy Vision for 2030, energy efficiency has been made a priority as an efficient tool to save energy resources, ensure energy conservation and rationalize energy consumption," he said, insisting that his commitment in this field does not stop at Morocco's borders. "This, I believe, is clearly reflected by the actions and projects I have launched within the framework of win-win partnerships, particularly with African sister nations."
Short URL: https://me-confidential.com/?p=15829
Posted by
Jaber Ali
on May 9 2017. Filed under
Energy
,
Headlines
,
World News
. You can follow any responses to this entry through the
RSS 2.0
. Both comments and pings are currently closed.