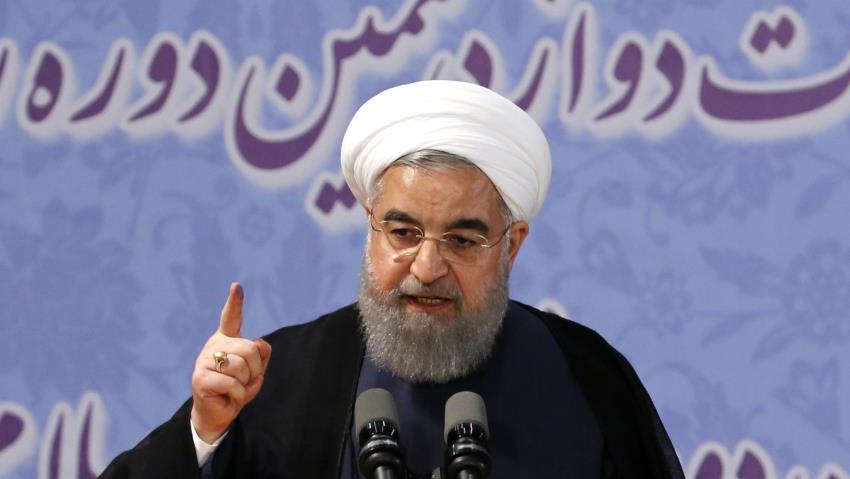 Iran's President Hassan Rouhani Friday laid into rival candidates arguing that they plotted against 2015 nuclear negotiations with the West.
Rouhani, during a presidential debate ahead of May 19 election, picked on conservative candidates accusing him of making empty promises and bowing to western powers.
"When our diplomats were negotiating the deal, what were you doing behind the scenes? Some people acted like the opponents of the Iranian people," he said.
The Iranian leader also slammed the decision to write anti-Israel messages on ballistic missiles before testing them.
"We saw how they wrote slogans on missiles and showed underground (missile) cities to
disrupt the JCPOA (nuclear deal)," he said.
"Our nation got through these issues because the majority of society chose morality and
Islam from day one," he added.
Rouhani's main rival, hardline cleric Ebrahim Raisi, charged the Iranian leader for
succumbing to western exigencies.
"We should not show any weakness in the face of the enemy," he said.
"This agreement was like a cheque that the government has been unable to cash. Mr Rouhani
promised that after the signing of the deal all the sanctions would be lifted and people's
lives would improve, but they have not," he added.
Rouhani seen as moderate also announced that he would improve human rights.
"Civil rights are not just on paper, they will turn into practice. We will hold different
sectors responsible," he said.
Six candidates are running for the Iranian presidency.