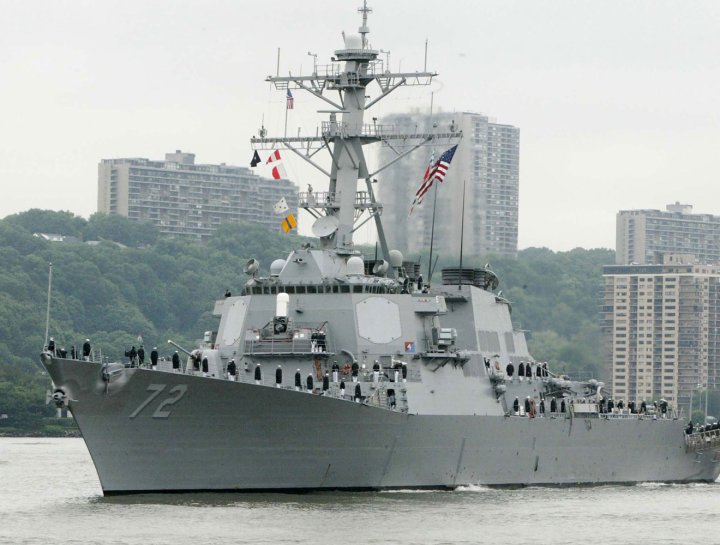 Iranian and U.S naval forces had another encounter this week in the Strait of Hormuz; a strategic international passage especially for oil from the region to the global market. The USS Mahan, a guided-missile destroyer of the Bahrain-based 5th Fleet, had an Iranian vessel racing close to it up to a distance of 1000 meters. A US official under the condition of anonymity lamented about the "obviously provocative behavior" of the Iranian navy which he said was "coming inbound at a high rate of speed like that and manning weapons, despite clear warnings from the ship."
Lt. Ian McConnaughey, a spokesman for the Fleet, said the destroyer "made several attempts to contact the Iranian vessel by bridge-to-bridge radio, issuing warning messages and twice sounding the internationally recognized danger signal of five short blasts with the ship's whistle, as well as deploying a flare to determine the Iranian vessel's intentions" but the vessel did not respond to any of their communication. According to him, USS Mahan tried to turn away from the vessel which later turned and sailed away.
Tehran has not made any comment about the incident which is reported to have taken place on Monday. It is not the first encounter of the 505-foot-long Arleigh Burke-class destroyer manned by more than 300 members in the Persian Gulf. In January, the USS Mahan fired warning shots at Iranian vessels after they came "within 900 yards or so" of the US destroyer, according to Pentagon officials.
Iran has been trying to make its presence notable in the Persian Gulf over the years especially along the Strait of Hormuz. There have been great concerns about the Iranian actions form neighboring countries and its intention has been questioned.