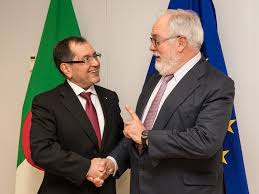 Algeria's energy minister, Nourredine Boutarfa, met with European Union's Climate and Energy Commissioner Miguel Arias Canete in Brussels to discuss energy matters with the latter assuring that Europe "will remain the main customer for Algeria" even though most long-term gas accords are ending between 2018 and 2019. Canete highlighted the advantages for Europe to continue getting its gas supply form the North African country while stressing that it is an "interdependent" activity because Algiers also "relies on the European market for its security of demand."
Boutarfa informed the EU that the growth of output for natural gas is sustainable for the "medium term and beyond" following investments in the sector. The minister hinted that a reform of the sector is possible as the laws continue to deter foreign investors. "We have engaged a dialogue with oil firms to shed light on their understanding of our laws, including their apprehensions with regard to taxes and to bring the necessary corrections so we can boost the development of our partnership and make our country more attractive," he said.
Canete underlined that "the regulatory framework for investments be improved" to attract more European investments and they are already considering ways to facilitate it. He hoped that the "mutual beneficial trade" will be strengthened as he deemed new supply contracts, investments in exploration and production "necessary."
After Russia and Norway, Europe derives most of its supply from Algeria and Bourtarfa's visit is geared towards deepening cooperation in the energy sector with the EU. Algiers continues to be wary of the threats posed to the sector by extremist groups in the Sahara desert. In January 2013, British Petroleum's In Amenas gas plant was attacked by terrorists and the energy minister stated that "security and contingency plans" are taken into account to "defend" the country.
Meanwhile, the UK ahead of its Brexit has also begun to engage in business and investment opportunities related to the energy sector with Algerian authorities.