Bahrain: Police Raid of Shia Cleric's Supporters Leaves one Dead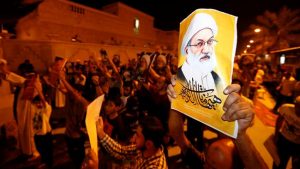 Supporters of the 75-year old Shia cleric Sheikh Issa Qassim have been protesting against his detention and trial since July when he was arrested and charged for illegal fundraising and money laundering. The protests in Diraz got violent on Thursday and reportedly left at least one person dead and another injured with a live bullet.
Violence erupted when a police raid at dawn targeted those who have been staging sit-ins since authorities revoked Sheikh Issa Qassim's citizenship in June. Dozens of residents in Diraz later staged a protest chanting slogans hostile to the authorities, according to press reports. The raid could be linked to the new hearing of the Sheikh's case on Monday as the Interior Ministry accuses him of "serving foreign interests." Qassim is accused of sowing sectarian divisions.
The majority Shia population thinks that their rights are stifled by the minority ruling Sunnis, with the support of Saudi Arabia. They have been demanding a constitutional monarchy and an elected Prime Minister since 2011. Bahrain has been rocked by unrest since security forces crushed Shia-led protests demanding such reforms and it has also been cracking down on human rights activists.
Nabeel Rajab, a Bahraini human right advocate, was given a lengthy sentence on Monday after he was charged with "defaming the state" by publishing "false news… and malicious rumors that undermine the prestige of the Kingdom." The said false news refer to a list of journalists, academics and NGO representatives who have been denied entry to the country since 2011. The list was compiled by the Bahrain Watch, a campaign group. Rajab has also been prosecuted in a separate case for "spreading rumors in wartime", "insulting a neighboring country" and "a statutory body", and could spend more than two decades behind bars.
Bahraini authorities have always reacted to criticism through the court although many claim that the process is just a formality. Sayed Ahmed Alwadaei, director of advocacy at Bahrain Institute for Rights and Democracy (BIRD), lamented that "Bahrain targets anyone who opposes the regime with arrest and imprisonment, and they ban entry to journalists and human rights groups to stop the story from getting out."
Short URL: https://me-confidential.com/?p=14892
Posted by
Peter Mulvany
on Jan 27 2017. Filed under
Gulf News
,
Headlines
. You can follow any responses to this entry through the
RSS 2.0
. Both comments and pings are currently closed.