Iran Mourns Rafsanjani, Mujahedeen-e-Khalq Predicts Regime Collapse Nearing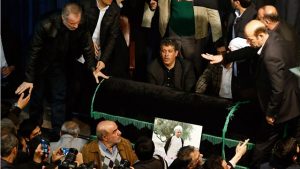 Head of the Expediency Council and Former Iranian President Akbar Hashemi Rafsanjani, 82, passed away on Sunday due to a heart failure. A-three day mourning has been decreed in the country. President Hassan Rouhani said the country is mourning its "worthy commander and the national hero in fighting tyranny and colonization."
Rafsanjani was an important player in the 1979 Islamic revolution and continued to have a dominant role in Iranian politics between the 1980's and 90s before losing elections to Mahmoud Ahmadinejad.
Rafsanjani served as president from 1989 to 1997 after holding several political responsibilities.
Maryam Rajavi, leader of the political arm of Mujahedeen-e-Khalq (MEK), said Rafsanjani's demise is the beginning of a new dawn in Iranian politics.
"With the death of Akbar Hashemi Rafsanjani, one of the two pillars and key to the equilibrium of the religious fascism ruling Iran has collapsed and the regime in its entirety is approaching overthrow." MEK is an opposition group that is calling for regime change by all means but renounced violence in 2001.
Hezbollah's Secretary General Hassan Nasrallah said the late Statesman was a "great man" and a "protector and supporter" of modern political Shiism in the Middle East. He added that Hezbollah "will not forget Ayatollah Hashemi Rafsanjani who sided with us in all fields and all stages." Hezbollah is considered as a replica of the Iranian Islamic revolution even though it has failed to attain the same objectives in Lebanon. Nasrallah also hailed him as a staunch supporter of Palestine and its resistance against Israeli occupation.
World leaders have presented their condolences and applauded Rafsanjani's leadership.
Short URL: https://me-confidential.com/?p=14701
Posted by
Peter Mulvany
on Jan 9 2017. Filed under
Headlines
,
World News
. You can follow any responses to this entry through the
RSS 2.0
. Both comments and pings are currently closed.