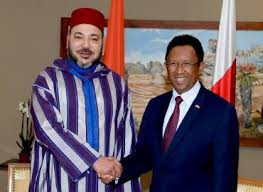 Morocco and Madagascar signed twenty-two cooperation agreements, marking a milestone in their bilateral relations and translating into concrete action their south-south cooperation endeavor.
The signing ceremony was chaired by King Mohammed VI and Malagasy President Hery Rajaonarimampianina in Antananarivo, the second leg of a second phase of an African tour that previously took the King to Ethiopia.
The agreements aim at strengthening the legislative framework governing bilateral cooperation in terms of river preservation, agriculture, finance, culture, employment, renewable energies and vocational training.
In this respect, the two countries signed a Memorandum of Understanding aiming at the environmental preservation of the Canal des Pangalanes, which consists in a series of natural rivers, waterways and man-made lakes that extend for about 700 kilometres.
Under this MoU, Morocco's Marchica agency will develop projects aiming at safeguarding Canal des Pangalanes biodiversity and developing integrated projects in the sectors of agriculture, industry, mines, ports, urban planning and tourism.
This project involves technical and operational support from a grouping of Moroccan-Ivorian enterprises as part of a public private partnership.
Funding for the Canal des Pangalanes upgrading project was made possible thanks to the role played by King Mohammed VI and the Ivorian government to convince Arab funds to bring financial assistance which was channeled through Morocco's bank, Attijariwafa Bank.
Earlier in the day, the Moroccan and Malagasy Heads of State held tête-à-tête talks and exchanged the highest distinctions of their respective countries.
The Moroccan Sovereign arrived on Saturday in Antananarivo for an official visit to Madagascar, 2nd leg of a new African tour that led the Sovereign to Ethiopia and will take him to other African countries.
Madagascar's Foreign minister Attalah Beatrice said the Malagasy people are honored by the royal visit, recalling the special historic ties existing between Morocco and Madagascar which welcomed late King Mohammed V during his forced exile by the French colonizer in 1954.
During his stay in Madagascar, King Mohammed VI will visit the city of Antsirabe where his late grandfather and the Royal family settled after their forced exile.
The Moroccan Sovereign will also lay the foundations of a hospital as well as a vocational training centre that can accommodate a thousand beneficiaries, the Malagasy presidency said in a statement.
The King will attend the 16th summit of the Francophonie due Nov. 22-27 in Antananarivo. Over 34 Heads of state are expected at the summit.