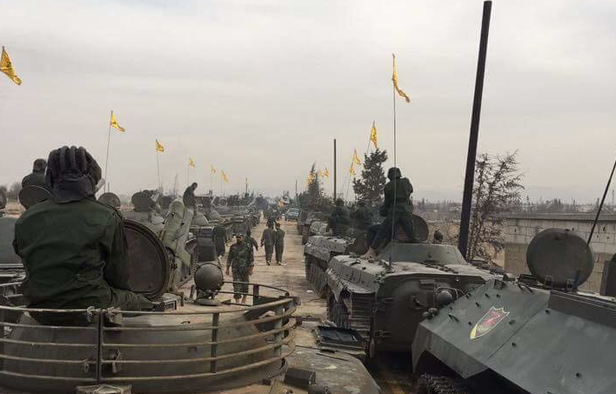 Lebanese based Hezbollah had a military parade inside Syria over to commemorate 'Martyr's Day' but the some of the American military hardware that featured in the released pictures have raised eyebrows because Washington considers the group as a terrorist organization. The event held in al-Qusayr, province of Homs, was attended by the Head of the group's Executive Council Hashem Safieddine.
Among the hardware that was paraded are Soviet-made T72 tanks, Russian-made anti-tank missiles, anti-aircraft cannons, machine guns and off-road quad motorbikes. However, the American-manufactured M113 armoured personnel carriers that Hezbollah displayed has raised questions about how they were acquired. US has supplied it to the Lebanese Army as part of its military aid package but some analysts also highlighted that it could have been seized from the now-defunct Israeli-backed South Lebanon Army and Jabhat al-Nusra in Syria that is supported by the US.
Amer al-Nasser of the Legion of Homs, an Islamist rebel group, downplayed the significance of the parade saying that it was "held in secret with the time and place undisclosed" because of fears of being attacked. He claimed that the aim of the military parade was "to raise morale among Hezbollah fighters after recent heavy losses suffered by the group."
Martyr's Day is celebrated every 11 November by the organization, marking the anniversary of a 1982 suicide bombing by 17-year-old Ahmad Qasir targeting an Israeli military headquarters in south Lebanon's Tyre. This is the first time that is held in open air in a foreign country and the city of al-Qusayr is said to be a symbolic choice because it was the first to be liberated by the group together with the pro-Assad forces in the spring of 2013.