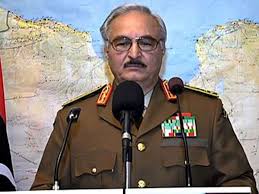 The UK, US and the EU in addition to Saudi Arabia, the United Arab Emirates and Qatar Monday discussed in London plans to support the Libyan economy and prevent the North African oil-rich country from sliding deeper in economic turmoil.
Libya has been unable to recover from the fall of Muammar Gaddafi's regime brought down in 2011 in a NATO-backed revolution. The oil-rich country and member of OPEC has been fragmented and run by two different governments claiming sovereignty over the country's oil facilities
UN-backed Government of National Accord (GNA) hashed out in December to reunite the country has been inefficient to address various challenges since arriving in capital Tripoli in March. GNA leader Faiez Serraj has faced standoff in expanding his power with several country figures still faithful to the rival government based in the East.
The London meeting, co-chaired by UK foreign minister Boris Johnson and US Secretary of State John Kerry, aimed at ending cliff between Serraj and the head of the Libyan Central Bank (LCB) Saddek Elkaber as well as finding consensus in enforcing economic decisions, remained pending due to rivalries.
Serraj reportedly charged Elkaber for failing "to fix the liquidity shortage and protect the value of the dinar". The head of LCB hit back accusing the Western ally of not having any economic policy and ruining the country, Libya herald reports.
Participants in the meeting, also attended by France, Italy, Saudi Arabia, Qatar and the United Arab Emirates and UNSMIL Head Martin Kobler, underlined support for Serraj amid growing opposition from eastern-based government and affiliated parliament, House of Representatives (HoR) based in Tobruk.
"The ministers underscored their support for increasing the capacity of the GNA… to respond to the needs of the Libyan people," US State Department spokeswoman Elizabeth Trudeau said.
"The ministers also called upon all Libyan economic institutions to work together in support of this effort."
Early September HoR's military arm led by Marshal Khalifa Haftar overran the country's main oil terminals controlled by Serraj forces. The move sapped the GNA's financial capabilities to meet social challenges that have dogged Serraj's popularity.