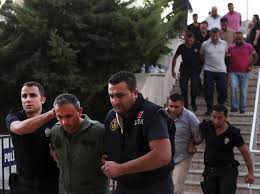 Turkey's crackdown on the alleged members of the July 15 coup d'état continues with the Chief Public Prosecutor in Konya issuing an arrest warrant for 73 pilots, two colonels and 71 lieutenants. The arrest operation began on Thursday morning across 17 provinces and there are reports that at least 45 of them have been taken into custody.
Dogan news agency reported that the pilots are being charged for "violating the constitution" by trying to oust a democratically elected government and also taking part in "an armed rebellion against the Turkish Republic." They are also accused of taking orders and "acting on behalf of the organization" in reference to the Fetullah Terrorist Organization (FETO) that Ankara alleges was behind the failed coup d'etat.
State-run Anadolu news agency reported that the pilots were handpicked by the Gulen movement and played an active role in the movement and the search for some of them at the Konya 3rd Main Jet Base Command is ongoing. Over 35,000 people have been arrested since July as part of the investigation into the group while nearly 26,000 have been released under "judicial control."
Alleged coup leader, Fethullah Gulen, has rejected the accusations that he was behind the plan. In total, Turkey says it has investigated 82,000 people in connection with the coup attempt and more than 5% of its security force has been affected by the investigations.
Critics say President Erdogan is using the coup to go after his opponents but Ankara argues that it is acting within the framework of the law while stressing that its actions are in reaction to an extraordinary threat necessitating emergency measures.
The United States is yet to heed Ankara's request for the extradition of Gulen much to the dismay of the Turkish authorities especially President Erdogan who openly criticized Washington for not handing over an alleged 'terrorist.