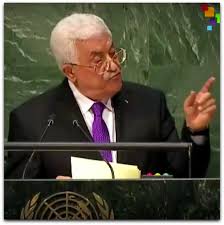 A telephone discussion between intelligence officer Major General Wael el-Safty, head of Palestinian Affairs at Egypt's General Intelligence Directorate (GID), and controversial Palestinian figure living in exile, Mohammed Dahlan, has been leaked with the two ridiculing Fatah and President Mahmoud Abbas.
Only Safty's voice was audible. He could be heard saying Abbas's "concentration isn't at full capacity" and "he isn't smart at all." He claimed that "the issue of the age also comes into it" as Abbas, 81, "doesn't want to change" or "do anything" to solve the Palestinian crisis and conflict with Israel because he has "nothing to offer."
Despite Dahlan voice not being heard, it is believed that Safty was talking to him because he said "Abu Fahdi, the years are passing." Dahlan's traditional Palestinian name is Abu Fahdi.
The two also discussed Fatah. Safty said the movement is "completely screwed" and Abbas "can't even contain the factions" within it as some of these factions "have begun to align their positions with Hamas."
Safty admitted that some of "these people (leading such factions) drove me absolutely crazy." He said the Palestinian Liberation Organization "is even worse." The intelligence officer said Abbas has lost control of the group and "the track is running out, if you excuse the phrase."
Egypt has been portraying itself on the international stage as a credible mediator between Fatah and Hamas as well as in the Israeli-Palestinian conflict but the leaked conversation, broadcasted by Mekameleen, a Turkey-based Egyptian satellite television channel, could raise eyebrows even though the TV channel is known to be close to the banned Muslim Brotherhood.
There have been reports that Cairo supports Dahlan to take over the leadership in Palestine after Abbas. Dahlan had attempted to overthrow Hamas in 2007 after their electoral victory and he is also being held responsible for triggering an arms race in Palestine. The controversial figure has been exiled from both Gaza and the West Bank but enjoys close ties with the UAE monarchy. Abbas continues to refuse reconciliation with Dahlan.
Egypt has two other intelligence services, the Office of Military Intelligence Services and Reconnaissance (OMISR) and the Egyptian Homeland Security (EHS), but the GID is responsible for both domestic and overseas intelligence.