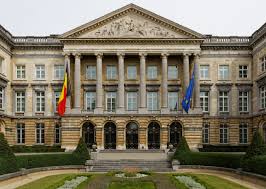 Belgium announced Monday it would donate Palestine a humanitarian aid worth over €10 million to meet the needs of the Palestinians.
The Belgian Foreign Ministry said in a statement that the aid amounting to 10,281,321 euros will be entrusted to the United Nations system and to Belgian and international NGOs that are involved in assistance to Palestine.
Belgian Deputy Prime Minister and Minister of Cooperation for Development, Alexander De Croo, said "two years after the conflict in 2014 in Gaza, the humanitarian challenges remain unchanged and the needs are still as important."
He deemed it "essential" to support vulnerable households suffering from the protracted humanitarian crisis and the recurring cycle of confrontations that the 2.3 million needy Palestinians in the occupied Palestinian territories are subjected to.
For 2016, Belgium has earmarked a total of over €20 million of humanitarian aid to the needy Palestinians.
The Belgian aid is destined to rehabilitate fishing activities and promote the free movement of goods and people through providing legal assistance, by establishing and strengthening advocacy activities.
The aid also seeks to expand access to basic health care and services for risk preparedness and psycho-social support to the most vulnerable people in the Gaza Strip.
Belgian funds will also serve to protect Palestinians threatened by forced displacement in the West Bank and to preserve and promote the right to education of Palestinian children in the West Bank and Gaza Strip. In addition, the funds will help rehabilitate and reconstruct Palestinians' homes that were severely damaged during the hostilities of 2014.