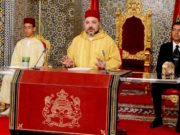 King Mohammed VI of Morocco firmly believes that Africa is capable of overcoming its current development obstacles and achieving its goals of progress and prosperity by using and capitalizing on its own human and natural resources.
In his speech addressed to the Nation on the occasion of the 63rd anniversary of the Revolution of the King and the People, a milestone in the Moroccan fight against French colonization, the Sovereign said "the problems plaguing African peoples today, such as backwardness, poverty, migration, wars and conflicts (…) is the result of the disastrous policy adopted for decades by colonial powers".
Despite the extensive damage caused by colonialism, "I believe Africa has the means to ensure its development and to take its destiny into its own hands, thanks to the resolve of African peoples and to the continent's human and natural resources", stressed the Monarch, renewing Morocco's steadfast commitment to continue supporting the causes of African peoples.
For Morocco, "Africa means more than just being part of a geographical area, or having historical bonds with the continent", underlined King Mohammed VI, saying that "Africa also means sincere affection, appreciation, close human and spiritual relations as well as tangible solidarity".
Furthermore, Africa is "the natural extension of Morocco and the embodiment of the country's strategic depth", added the Sovereign, affirming that "this multi-dimensional relationship puts Morocco in the center of Africa" and means that Africa holds a special place in Moroccans' hearts.
For this reason, "Africa has been given top priority in Morocco's foreign policy", explained King Mohammed VI in his speech. He also went on to say that Morocco and Africa are one and share the same destiny, noting that the success of Morocco's African policy is due primarily to its solidarity with African countries, and the "win-win" partnership serving African socioeconomic development and African citizens.
"Morocco does not merely export medicines to Africa; it also makes sure to set up pharmaceutical companies and healthcare centers. It develops infrastructure, builds vocational and technical training centers and implements projects that offer steady jobs and income", said the Sovereign.
"We attach as much importance to improving the livelihood of Africans in their countries as we do to African migrants in Morocco. As a result, they do not suffer the same hardships endured in many parts of the world", King Mohammed VI stated further.
He said that "Morocco was one of the first countries of the South to adopt a genuine solidarity-based policy regarding sub-Saharan migrants". This integrated policy, which is rooted in humanitarian values, is designed to make sure migrants' rights and dignity are safeguarded.
Morocco has regularized the situation of migrants using fair and reasonable standards. It has provided the conditions needed for migrants to reside, work and lead a dignified life within our community, stressed the Sovereign, highlighting the generosity and hospitality of the Moroccan people who always welcome warmly their guests with open arms.