Lebanon: Central Bank Renounced National Sovereignty by Closing Accounts, Hezbollah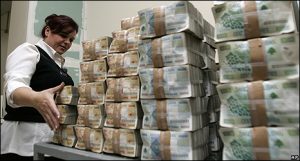 Hezbollah's Loyalty to Resistance parliamentary bloc reacted to the authorities decision to close around 100 Hezbollah-linked bank accounts and their plans to close thousands more, saying the decision means that the Central Bank has renounced national sovereignty.
The parliamentary bloc said in a statement that implementing the law equals a renunciation of "national sovereignty." The group warned that thousands of people employed by its institutions and beneficiaries of its different foundations will be affected.
The statement rejected a recent interview of the Governor of the Lebanon's Central Bank, Riad Salameh, as "ambiguous and suspicious" saying his "latest stance reflects an inclination to liberate the financial policy from the restraints of national sovereignty."
In the interview aired on CNBC business news channel on Wednesday, Riad Salameh stated that "our priority is to keep Lebanon on the international financial map, and therefore we have decided to implement the US law in Lebanon."
The US Hezbollah International Financing Prevention Act signed by President Obama in December bars Hezbollah from financial transactions with banks and Salameh said "the needed structure to satisfy this law's objectives" is in place. He assured Shias that their rights would be protected, in a bid to distance the decision from being a clampdown on the sect.
The parliamentary bloc boasted that targeting Hezbollah through the country's banking sector "is doomed to fail and will not succeed in achieving its objectives." It labeled the law as a "policy of blackmail" to change the group's policies or "its stances against the US tyranny and injustice."
Salameh explained that Lebanon's economy depends on the Lebanese people because of the lack of natural resources or exports, therefore the economy's "pillar is to keep confidence in the country."
Short URL: https://me-confidential.com/?p=12903
Posted by
Peter Mulvany
on Jun 10 2016. Filed under
Finance
,
Headlines
. You can follow any responses to this entry through the
RSS 2.0
. Both comments and pings are currently closed.