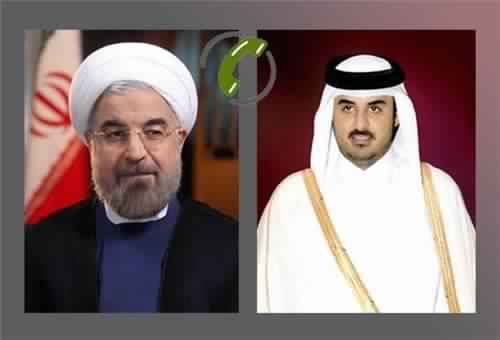 President Rouhani of Iran and Qatari Emir Sheikh Tamim bin Hamad Al Thani had a telephone conversation on Wednesday and both leaders expressed their desire to reinforce their ties and broaden their cooperation.
Since his arrival to the presidency in 2013, Rouhani has been trying to ease the tension between Iran and other countries.
He said "Tehran is prepared to expand consultations with friendly countries in the region, including Qatar, for strengthening regional stability and security."
Sheikh Tamim, who took over from his father the same year, said Doha favors "good and strategic relations" between Iran and other countries along the Gulf.
Iran is at odds with most Gulf States especially Saudi Arabia and Bahrain. The two Gulf States claim that Iran is seeking to destabilize them by supporting armed criminal groups on their territories. Tehran has always denied such allegations.
In his phone talk with Sheikh Tamim, Rouhani stated that "regional issues need to be resolved through negotiations" before underlining that Tehran and Doha "have common purposes and interests, and can fulfil their goals, which are in line with regional development and stability."
Doha also had a rocky experience with Gulf States after the Sisi's coup d'état against Mohammed Morsi because of the close ties it had with the latter.