KSA will not flood the oil market, Energy Minister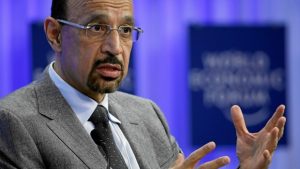 Saudi Energy Minister Khalid al-Falih said Riyadh will not be increasing its oil output because "there is no reason to expect that Saudi Arabia is going to go on a flooding campaign" as he reassured that "we will be very gentle in our approach and make sure we don't shock the market in any way."
The Saudi official made the remarks Thursday while speaking to reporters at the Oil Producing Exporting Countries (OPEC) summit in Vienna.
The member countries failed to reach an agreement on setting production limits in order to boost oil prices, which have jumped from below $30 a barrel to almost $50.
Falih said Saudi Arabia will propose setting a collective output ceiling "when necessary" and is willing to listen to proposals from Tehran.
Iran is reluctant to freeze its production because it wants to attain its output level before the internation al sanctions were imposed. Iranian oil minister Zanganeh said they prefer the mechanisms on limiting production levels to be dealt with based on countries. "Without country quotas, OPEC cannot control anything" he said. His country accounted for 14.5% of OPEC's overall production before the sanctions took their toll and the current production level is estimated to be below that.
"There could be shorter-term situations in which, in our view, OPEC might intervene and yet other situations — such as long-term growth of marginal barrels — in which case it should not," Falih told Argus Media ahead of the meeting.
All the oil dependent countries have been affected by the low oil prices, which have persisted for two years and the political differences between Riyadh and Tehran affected the economic approaches at OPEC meeting. The two countries did not confront each other at the summit and the unanimous decision to appoint Nigeria's Mohammed Barkindo as new OPEC secretary-general raises hopes that cohesion is slowly returning into the oil cartel.
Short URL: https://me-confidential.com/?p=12827