Saudi Arabia's Vision 2030, a Broad Reform Plan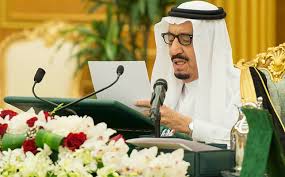 Saudi Arabia will embark on a broad reform plan meant to diversify the country's economy beyond dependence on oil exports, state media reported on Monday.
The plan, known as Saudi Arabia's Vision 2030, was approved Monday by the Saudi cabinet.
Deputy Crown Prince Mohammed bin Salman who presented the broad lines of the plan stressed the need for the Saudi Kingdom, the largest economy in the Arab world and the leading crude exporter, to end its dependency on oil.
The plan, presented by Prince Mohammed as a "road map" for the development of the kingdom during the coming fifteen years, is intended to diversify Saudi economy, which depends on oil for more than 70%.
Under the plan, the country is to sell less than 5 per cent of oil giant Aramco in IPO, in what could be the world's largest initial public offering.
According to Deputy Crown Prince Mohammed bin Salman, the value of Aramco is to exceed $2 trillion. Part of these assets will be used to set up a $2 trillion sovereign wealth fund, he said, adding that the new investment fund will turn the world's top oil exporter into a global investment power.
This new fund to top the ranking of world sovereign funds will control more than 10% of the investment capacity in the world (…) and the volume of its assets represent more than 3% of existing assets," said the young Saudi Prince, 30, who is also Defense Minister and chairman of the Council of Economic Affairs and Development. The council oversees Aramco, the kingdom's economic pillar which has reserves of over 261 billion barrels and employs over 61,000 people.
After Aramco, "other subsidiaries will be introduced on the stock market," said the Prince, predicting a Saudi economy that no longer depends on oil but on investment returns.
According to press reports, the kingdom's existing Public Investment Fund (PIF) had made returns of $8bn in 2015.
Among the other measures to be implemented part of the reform plan, Prince Mohammed announced a "green card" system that will be introduced within five years to allow resident expatriates in the kingdom to have more rights in order to improve its investment climate.
Sweeping reforms, among which the proposed green card, will be implemented even if oil prices rise back above $70 a barrel, he said, announcing plans for a military industries holding company to be fully owned by government at first and offered in IPO by end of 2017.
The reform plan will not require major spending but will involve restructuring, prince Mohammed said, adding that spending on infrastructure projects would continue.
He announced that the housing ministry will be restructured to help more citizens buy homes, insisting that subsidies should not go to the rich.
Efforts will also seek to reduce unemployment among Saudi nationals to 7% from 11.6% currently.
Saudi economic grow is expected to stand at 1.2% this year, against 3.4% in 2015.
The collapse of oil prices has forced Gulf states, including Saudi Arabia, to take unprecedented measures for the reduction of fuel subsidies and the imposition of new indirect taxes.
Short URL: https://me-confidential.com/?p=12512
Posted by
Peter Mulvany
on Apr 25 2016. Filed under
Finance
,
Gulf News
,
Headlines
. You can follow any responses to this entry through the
RSS 2.0
. Both comments and pings are currently closed.