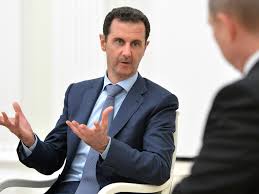 President Assad on Wednesday signaled that he is willing to form a unity government with opposition and independent figures but the High Negotiations Committee (HNC,) a coalition of Syrian opposition parties, quickly rejected the proposal.
In an interview with Russian news agency RIA, Assad said it was "logical" for the different pro, opposition and neutral forces to be "represented" in a cabinet but stressed that calls for his exclusion are "illogical and unconstitutional." He argued that "the national unity government" will prepare a new constitution as he downplayed the need for a "transitional body of power" because it can't be found "neither in the Syrian constitution nor in the constitution of any other country in the world."
HNC reacted to the interview with senior member Assad al-Zoabi saying that "international resolutions" on Syria urged for "the formation of a transitional body with full powers, including presidential powers." "Assad should not remain for even one hour after the formation," Zoabi said.
George Sabra, a representative of HNC, added that President Assad's comments have "no relation to the political process"
Assad claimed "some (Syrian parties) have agreed" to the drafting of a constitution and it could be ready within weeks although "other Syrian parties have not yet agreed to this principle" of a unity government. He said that "these are not difficult questions" to agree on.
In a separate interview published by Sputnik, Assad accused Turkey, France, Britain and Saudi Arabia of supporting terrorism in Syria. He said Russia, China and Iran are supporting Damascus and they would be given the priority during the reconstruction process while claiming that Western countries will try to have a share.